THE BEST STONE PRODUCTS FROM M-STONE
INSTALLATION OF LARGE-FORMAT TILES, PORCELAIN TILES. LAYING LARGE-FORMAT TILES PRICE KIEV UKRAINE
Effective laying of large-format tiles Kiev. One of the latest trends in modern architecture is the use of large-format ceramic tiles, products for which it is especially important to observe the installation technique. Manufacturers of building and finishing materials are constantly developing new products to help lay large-format tiles. Most of these products are made with the use of high technologies and require a certain skill from the stacker. The company M-STONE professionally deals with this issue, there is a large selection of large-format tiles, we perform turnkey work.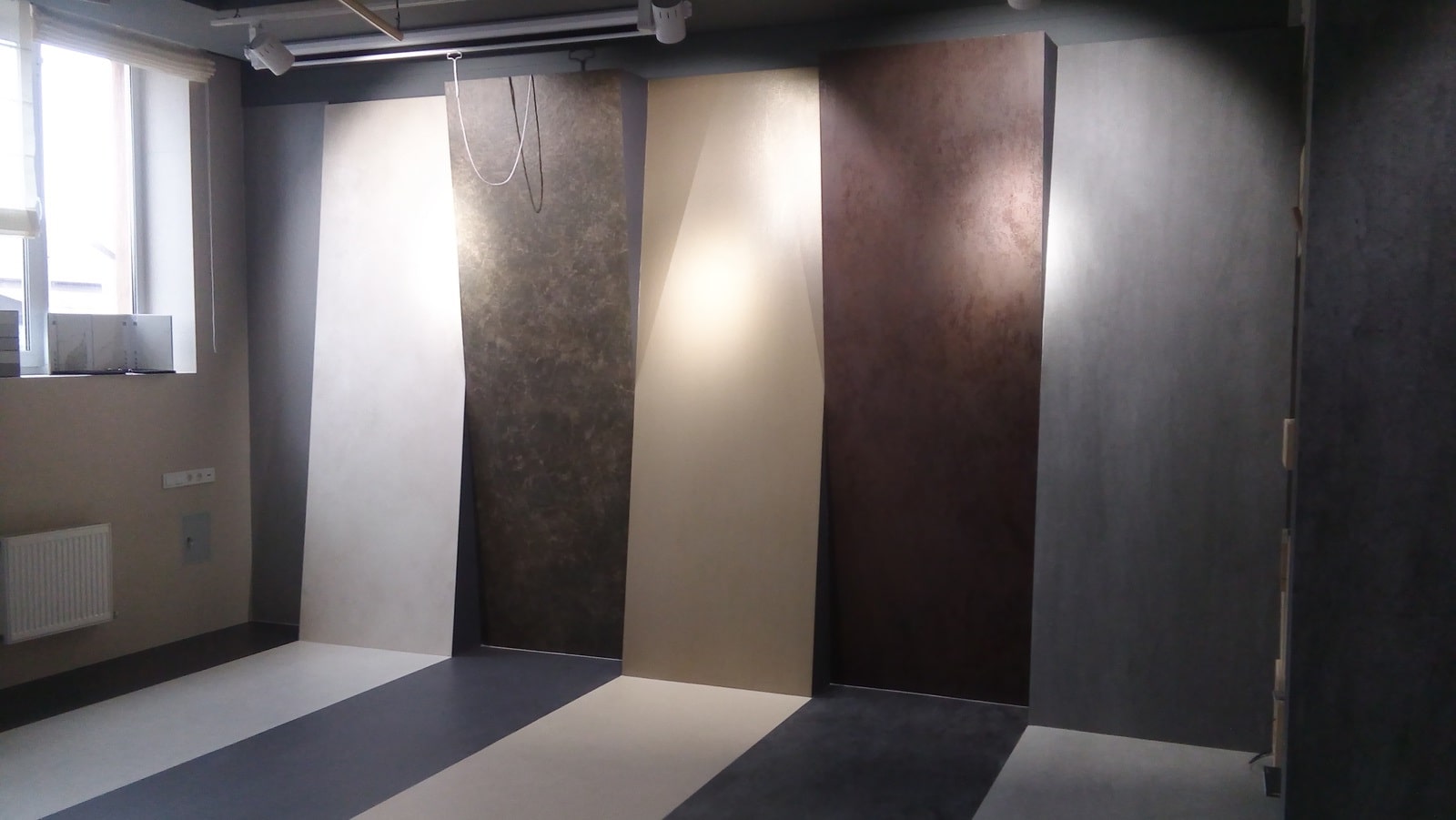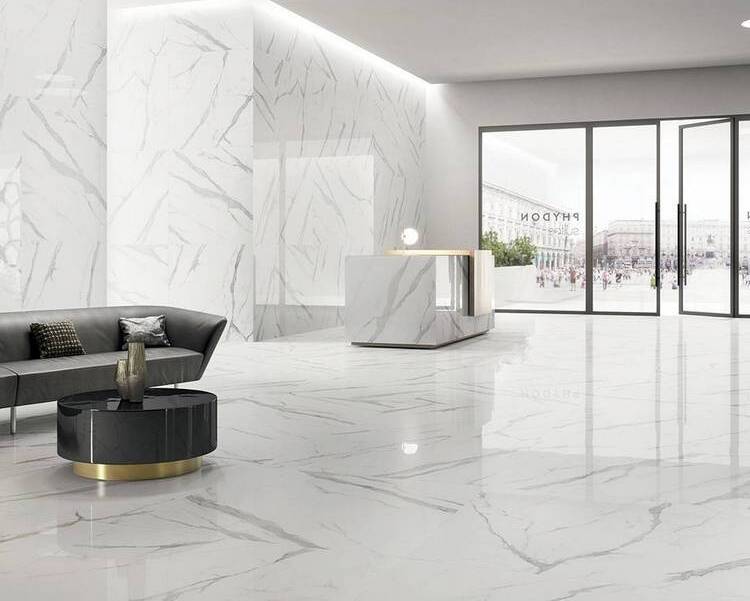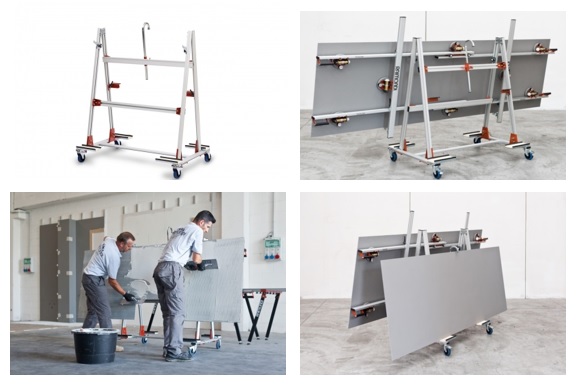 LARGE-FORMAT TILES AND PORCELAIN TILES HAVE A NUMBER OF ADVANTAGES COMPARED TO TILES OF A SMALLER FORMAT

The ability to minimize the number of seams. When facing the floor with a standard-sized floor covering, a large number of joints are inevitably formed, which eventually get dirty, lose their attractive appearance and crack. To solve this problem, you can only use a large-format tile.
Large formats create a sense of great spaciousness, help to visually expand the room.
The ability to speed up and simplify the process of facing any plane. Large-format material covers a large surface area in a short time.
The large-format tile looks very stylish, emphasizes the elegance of the created interior.
This material is available on the market in a wide variety of colors and textures. There are models with imitation of natural stone and marble, with elements of geometry and patterns. Now you can design any room according to your taste preferences, creating a truly unique design.
The products have excellent performance properties, thanks to which they can be used in rooms for various purposes: kitchen, hallway, bathroom.
Due to the large selection of sizes and shapes, the material can be used for both wall decoration and floor cladding. This will help you quickly and easily design an apartment in a single style.
Large-format porcelain stoneware is more hygienic. It is also very easy to maintain and clean.
CONDITIONS FOR LAYING LARGE-FORMAT TILES


Environmental conditions that affect the process and quality of laying large-format tiles may include:
- type and condition of the base for laying large-format tiles;
- expected drying time of the adhesive composition;
- flatness of the base;
- indoor temperature and humidity, etc.
With the correct assessment of the conditions for laying large-format tiles, the master can "win" from the use of a particular adhesive composition, or "lose" if the assessment is made incorrectly. Everywhere you can see the result of laying, produced in the traditional way with the use of long-established products.
As a rule, such work is carried out by seasonal workers who, during the work, insist on using the product that they know best, it is also true that these seasonal workers do not worry much about the installation conditions and do not make an assessment for the choice of a particular adhesive composition. Perhaps the biggest mistake is to use a standard adhesive, instead of applying a special mixture for laying large-format tiles, suitable for these specific conditions.
It is quite natural that manufacturers of styling products follow the new trend "the more, the better", and offer the market the appropriate products. Unfortunately, the companies that are engaged in the construction and preparation of foundations, did not heed the new trend.
The same can be said about architects and builders, who even at the design stage do not take into account the fact that laying large-format tiles requires a perfectly flat base. It is believed that this is partly because we ourselves do not pay enough attention to training the people responsible for design and construction. Often, in the course of sales training, no one wants to recognize the fact that for such products as huge, heavy ceramic tiles, porcelain tiles, an appropriately prepared base is required.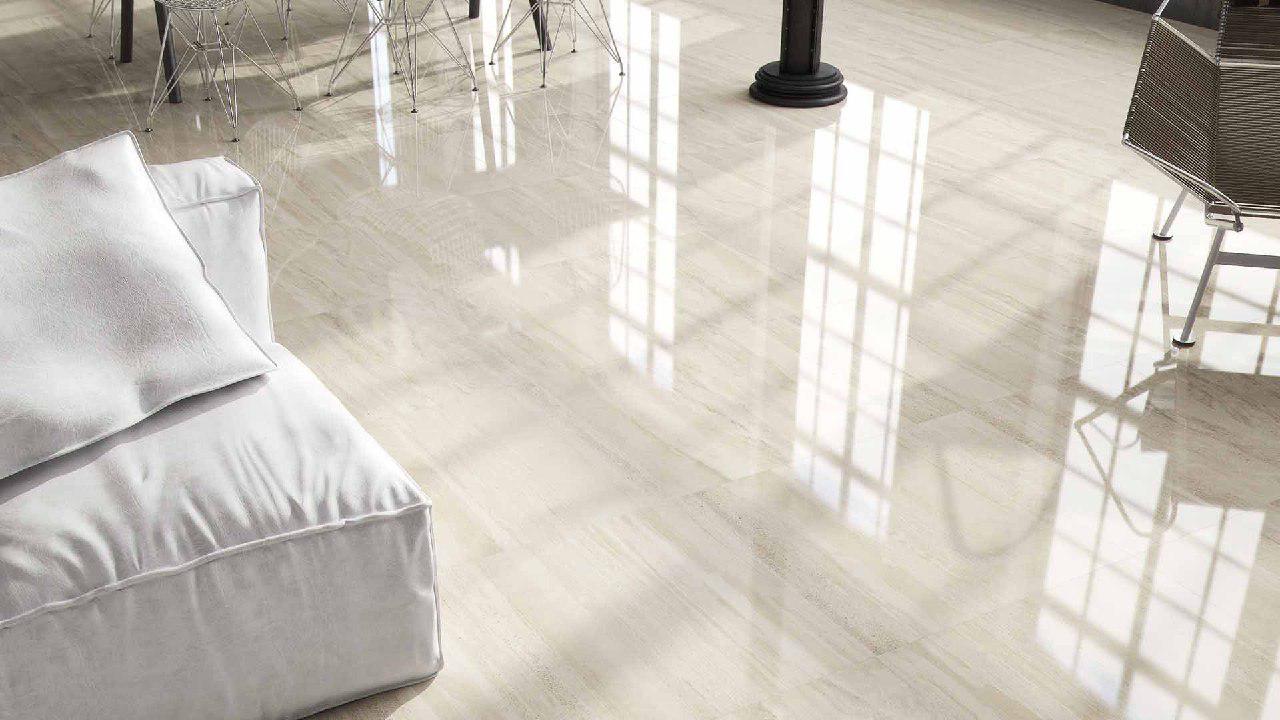 PRICES FOR INSTALLATION OF LARGE-SIZE TILES
| | | |
| --- | --- | --- |
| Installation of large-format tiles: | Ed. of. |   |
| Installation of format plates 1200x1200mm | м2 |  от 600 |
| Installation of large-format porcelain stoneware from 1200x2400 | м2 |  1300 |
| Installation of large-format porcelain stoneware 1600x3200 | м2 |  1500 |
| Installation of large-format porcelain stoneware over 3200 | м2 |  dog. |
| Cutting of finishing tiles, grinding of edges | м.п. |  300 |
| Installation of format plates with a thickness of 3 mm | м2 |  1500 |
| Mounting slopes up to 400 mm | м.п. |  800 |
| Tile cut, at an angle of 45o (one side) | м.п. |  300 |
| Rough tile cut | м.п. |  200 |
| Cut-out of the hole with a diamond crown | шт. |  250 |
| The hole cutout is a complex | шт. |  1500 |
| Grouting of joints | м2 | 100 |
PRICES FOR INSTALLATION OF LARGE-SIZE TILES
Laying large-format tiles price Kiev Ukraine
Large-format porcelain tiles offer unique advantages for all types of repairs or new construction work. Find out the reasons for using large porcelain formats in this post.

If you are interested in buying tiles for your home, renovation, or any other type of construction, you probably asked yourself the question, small format or large format? Often, when we are in the tile selection phase, we tend to see ourselves as extremely unsure of which type to choose. Any type of porcelain stoneware, without a doubt, will be the best choice for laying any surface, interior or exterior. However, large stoneware tiles offer a number of additional benefits that you can get if you choose them for your new interior decoration project.

Sometimes we think that when the room in question that we are going to pave, whether it is a kitchen or a bathroom, has a reduced size, it is better to bend over the tiles of a small format. Nothing could be further from reality, because although the space is small, it is possible to work with large-format tiles, and in addition, the practical absence of tile joints provides the effect of greater spaciousness and hygiene.

Large format tiles provide a sense of continuity in the space. This sense of continuity makes the spaces seem larger than they really are. But this is not the only advantage, there are many more of them. We will see all the advantages of large-sized porcelain stoneware.
Full cycle
From processing to installation, we control the entire process.
Professional equipment
We only work with professional equipment.
Qualified specialists
All the staff received professional training in European countries..
Large portfolio
The portfolio section can evaluate our work.Our work speaks for itself.
Deadlines
All work will be carried out clearly within the time agreed with the customer.
The most complex projects
We will perform installation or restoration of any complexity from any material.